This page covers IJP Open on PEP-Web.
Find out here:
---
Open Peer Review and Debate
IJP Open is an online format to follow and engage with the peer-review process of articles submitted to the International Journal of Psychoanalysis on PEP-Web. IJP Open makes it possible for psychoanalytic papers to be read and discussed during the stage of peer review. With the aim of furthering psychoanalytic creativity and a genuine exchange of ideas, authors, readers, and reviewers can converse in real-time with one another in enriching, active debates.
As a discussion launch pad for working papers, IJP Open gives authors a chance to present their ideas for discussion within the wider community, fostering critical thinking via respectful public engagement. Anyone with a PEP account, whether a PEP or IJP subscriber or someone with a profile on our platform, are encouraged to join in as part of the formal review process.
Articles and their resubmissions will appear online, along with the rounds of reviews and decision letters. Importantly, the author now has the opportunity to reply to any comments, and readers may respond in turn as part of an online peer discussion. This process continues until a final decision is made.
---
What Features Does IJP Open Include?
Open Access
Anyone can register to IJP Open for free and have access to viewing, downloading, reviewing and commenting on the submitted papers.
Speed
Once the editors deem a submission promising, the paper will be made available to be read and discussed on IJP Open. The papers are indexed in PEP-Web and are thus searchable by both subscribers and non-subscribers of PEP.
Transparency
The traditional peer process is supplemented by an open and transparent peer review process.
Readers and the whole psychoanalytic community will benefit from an open and wide-ranging critical discussion. They will be able to see in an accessible and friendly format how an otherwise hidden process develops.
IJP Open provides a unique opportunity for a high level international discussion of working papers in their first submitted version. Please note, IJP Open papers do not constitute final published papers. A watermark is added to all IJP Open papers to make it clear that they are not published papers. Authors also have the option of submitting their paper to IJP Open anonymously.
Real-Time Multilingual Discussion
Working papers appear on IJP Open in the language of submission (English, Spanish, French, Portuguese, Italian or German), and readers can comment in these languages. Active psychoanalytic thinkers from all over the world can participate in the evaluation process, fostering important international connections.
---
Anyone with a PEP account, whether a PEP or IJP subscriber or someone with a profile on our platform, are encouraged to join in.
To add comments or reviews, and to receive notifications of additional content, you will need to:
Register for a FREE subscription to IJP Open
Visit PEP-Web and be logged in to your personal PEP account
---
For PEP subscribers:
Login to the PEP client database (PaDS) using your PEP username and password, then follow the steps below.
Non-PEP subscribers or those who access PEP via a university or institution:
First set up a free PEP account. Next, use your PEP username and password to login to the PEP client database (PaDS), then follow the steps below.
Once you are logged in to the PEP client database (PaDS)
Step 1.
On the first screen under "New Orders" select "New IJP Order":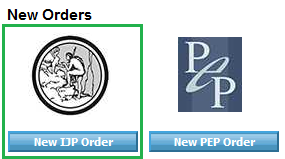 The next page shows information about the "IJP Open Complimentary Subscription" and the order form: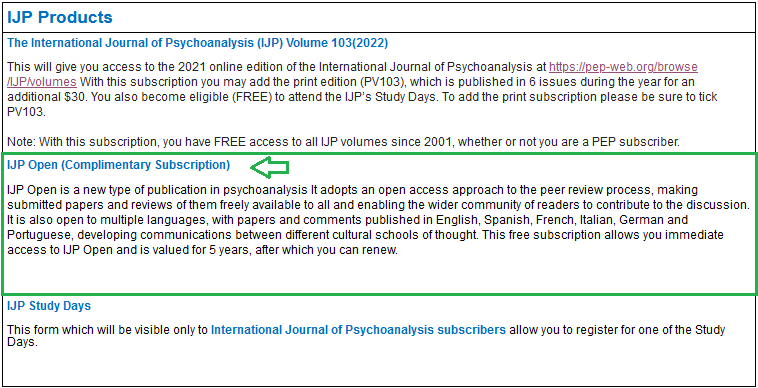 Select "Primary Product Code – IJOD" by clicking the box next to the rate ($0.00) and then click the "Next" button.
On the next screen, click the "Confirm" button to subscribe to IJP Open:

Step 2.
Visit PEP-Web
Login using your PEP username and password.
Step 3.
Before using IJP Open, we recommend reading:
How to View IJP Open on PEP-Web
How to Join the Discussion
---
How to View IJP Open on PEP-Web
You can find IJP Open directly at: https://pep-web.org/browse/IJPOPEN/volumes
To find IJP Open from the PEP-Web homepage, first login to your personal PEP account, then on the top toolbar select the "Browse" button:
Next, on the left side panel, select the "Journals" tab. To find IJP Open, either scroll down the list of journal titles listed below or enter "IJP Open" into the "Browse" search field. Click on the journal title to open the relevant publisher's page in the central reading panel: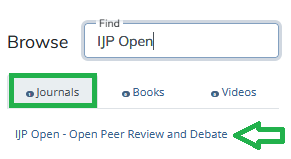 Click on a Volume number to access its Table of Contents:

Next, click on a title to read an article:

Comment Thread
Every IJP Open article has a comment thread. Click on the "Comments" icon in the top right corner to view the discussion: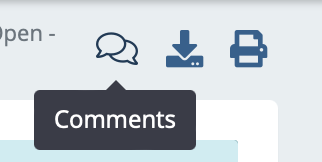 The first time you access the comments, you will be automatically assigned a "Disqus" profile linked to your PEP username. Disqus, a platform that enables discussion, is seamlessly integrated with PEP-Web:
With the discussion panel now open at the bottom of the screen, you can view and add to the comments thread: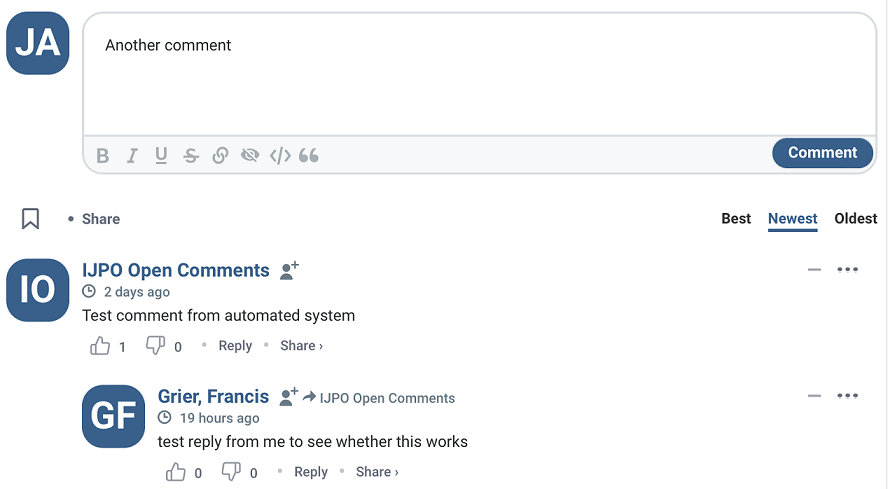 This thread contains not only all of the formal review communication, but also any comments submitted by readers and authors. The formal reviews remain anonymous, but readers posting comments will be identified by their profile.
Readers can comment not only on the paper, but on other readers' and the reviewers' suggestions. Authors are encouraged to join in the conversation, responding to any points made by readers. The to-and-fro can continue until a final decision is reached or the author decides not to resubmit.
Formal Review Communication
If the formal peer review decision about an article is "Accept as is", or if it is "Major modify" or "Accept with Modification", those decision letters are added to the comments thread. "Reject" decision letters will not be added, the paper will just end.
Article History
As articles are updated as part of the formal peer review process, the different versions can be accessed by clicking on the "PEP-Web Manuscript Version History" section at the bottom of an article:

User Notifications
IJP Open users who have commented on the site will be notified when any additional material is posted in the comments thread, e.g., author is notified when a user comments, user is notified when an author responds. Notifications are sent to the email address linked to the user's personal PEP account.